Catholics who do not embrace the spirit of Evangelii gaudium will likely be confused by Laudato Si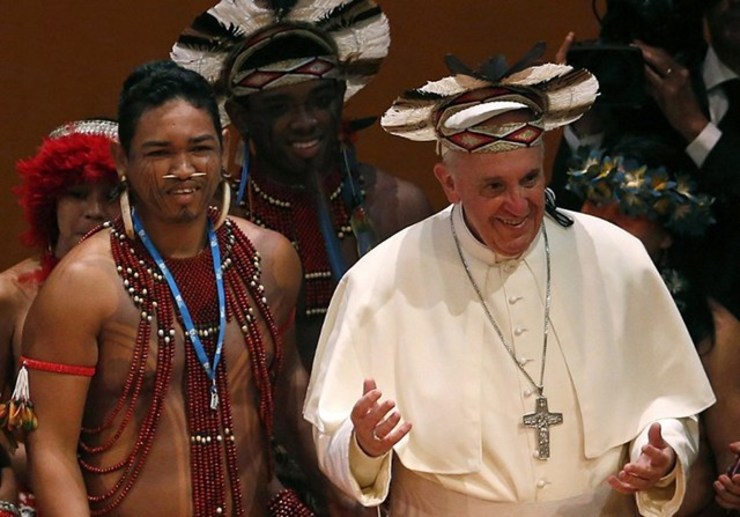 In my previous article I already pointed out the 3 salient aspects of Laudato Si: its prophetic style, invitation to conversion and Trinitarian theology. I was going to technically discuss climate change in Laudato si' vis-à-vis the latest policy and science on the issue. But before I do that, now I find a more urgent need to explain the way one should read Laudato si', given the amount of perplexed and negative responses (mostly by Catholics) in the media.
I find many of these reactions quite embarrassing for so many who call themselves 'sons and daughters of the Church'; not primarily because they dissent from the Pope, but because of the (poor) reasons they give for doing so. There are many non-Christians who are able to read and interpret Laduato si' in a much more open, nuanced and sophisticated way, in the same spirit in which it was written.
My central thesis in this article is that, for Catholics, embracing the spirit of evangelization as expressed in Evangelii gaudium is a prerequisite for understanding Laudato si'. Most Catholics who oppose Ladudato si' do so because they have a very limited idea what it means to evangelize.
Hermeneutics
Hermeneutics concern the way in which a reality is interpreted. The way a person approaches a text and engages it shapes how it is understood. Catholics, of all people, should know this – it was over hermeneutics, among other things, how we ended up disagreeing with our Protestant brothers and sisters on the meaning of Scripture. Even with the same exact text, two people can come to very different conclusions about what it means if they chose to interpret it differently with distinct tools and preconceptions.
A simple and humorous illustration of the importance of hermeneutics can be
 found in examples of misinterpretation of 'The Onion' articles. These spoof articles are written as comedic satire; for those who 'read it' incorrectly their reaction is outrage, fear and perplexity rather than humor. The NYT was so infatuated with Obama they took his PR campaign in Tiger Beat (a tween magazine) enthusiastically, as did the Chinese who believed Kim John-Un was voted the 'sexiest man alive'. Fox Nation was too eager to viciously repudiate Planned Parenthood's 'AbortionPlex' spoof. 'The Onion' requires readers to engage their texts through the hermeneutics of humor. Without this hermeneutic the text cannot be understood as it was intended.
A proof that Pope Francis is attuned to hermeneutics and interpretation are his own words with regards to the most important text he 'produced': the Aparecida Document. This document was the fruit of a three week meeting with over 200 Latin American Bishops in 2007, held at the world's largest Marian basilica in Aparecida, Brazil. After this meeting Cardinal Bergoglio, who was the document's chief redactor, emerged as the "leader of the Latin-American Church", setting him up to become the next Pope. As a backdrop, we should also consider Pope Benedict XVI prophetic words on the flight to the meeting in Brazil: "I am convinced that from here will be decided— at least in part, but a fundamental part— the future of the Catholic Church. For me this has always been clear." (in Austin Ivereigh, "The Great Reformer")
Anyone who understands what happened 'behind the scenes' at CELAM's meeting in Brazil[1], knows how invested Bergoglio was in the outcome of the document and the emphasis he put on defining its hermeneutics. He says this himself: "The way we "see" is always affected by the way we direct our gaze. There is no such thing as an "antiseptic" hermeneutics. The question was, rather: How are we going to look at reality in order to see it? Aparecida replied: With the eyes of discipleship."
[UPDATE: After this articles publication the Pope himself brought up the exact issue of hermeneutics and urged people to interpret him correctly: "And if you allow me, and no one asked me this… the hermeneutics of a text is very important. A text can't be interpreted only in one sentence. The hermeneutic has to be applied to the entire context."]
Going back to Laudato si', Pope Francis is very explicit about his intention for the document. Francis is not writing the encyclical for Catholics or explaining the importance of a missionary hermeneutic like at Aparecida, he is writing it for non-Catholics in a missionary hermeneutic. Laudato si' is mission itself; the fruit of a missionary approach and an example of how Catholics should engage the world. The Pope explains this in the beginning of the encyclical.
After a poetic introduction, Pope Francis gives us paragraph 3, in which he spells out his intentions:
"3. More than fifty years ago, with the world teetering on the brink of nuclear crisis, Pope Saint John XXIII wrote an Encyclical which not only rejected war but offered a proposal for peace. He addressed his message Pacem in Terris to the entire "Catholic world" and indeed "to all men and women of good will". Now, faced as we are with global environmental deterioration, I wish to address every person living on this planet. In my Apostolic Exhortation Evangelii Gaudium, I wrote to all the members of the Church with the aim of encouraging ongoing missionary renewal. In this Encyclical, I would like to enter into dialogue with all people about our common home."
Let us break this down into 3 main points:
a. Intention and target audience: What is the intention of the author of Laudato si'? "I would like to enter into dialogue with all people about our common home" (3). In short, "dialogue with all people", a "new dialogue" (14) which in colloquial terms could be stated as: 'I want change the conversation to include everyone'. By invoking Saint Pope John XXIII and the encyclical Pacem in Terris as the point of reference for Laudato si', Francis is saying 2 things about this "new dialogue". One, that much like the nuclear crisis in the 60's, the environmental crisis today is an occasion for people from the whole world to come together. Two, unlike Pacem in terris, Laudato si' is addressed to an even broader audience that goes beyond "people of good will" to include every person, even those who do not have good will, dislike the Church, etc.: everyone! This is a very bold proposal, especially considering the opposition the Church has faced in recent times. Let us think through what talking to 'all people' includes: atheists, conservatives, traditionalists, liberals, rapists, ordinary parishioners, murderers, saints, sinners, celebrities, house wives, Richard Dawkins, humanists, scientists, devil worshippers, do-gooders, heretics, homeless, presidents, vandals, teenagers, moderate Muslims, modern martyrs… My point: engaging the whole world is a fabulous challenge. How does one do this? As we will see, much like Pacem in Teris, this will require on the part of the Church a particular way of speaking, thinking and engaging that may result unfamiliar to Catholics.
b. To Catholics reading Laudato si', Pope Francis reminds them that he gave the Evangelii gaudium, where he encouraged them to do one thing: evangelize. In fact, I encourage all Catholics who are perplexed or frustrated with Laudato si', to re-read and interiorize Evangelii gaudium (try 15, 27, 34, 35, 41, 48, 49). Let me just give a refresher. In the Apostolic Exhortation, the Pope reminded Catholics of their primary duty to go out and announce the Lord Jesus "first and foremost to those who do not know Jesus Christ or who have always rejected him" (15), in a  practical way. He said that this evangelizing action should be driven by joy and conviction, even if it implies running risks of making the Church "bruised, hurting and dirty". To Pope Francis, the problem of the Church isn't the risk of "going astray" or 'contamination' from the outside world but rather "a Church that is unhealthy from being confined and clinging to its own security", "shut up within structures… within rules that make us harsh judges" and that thinks that evangelizing means preaching to our "friends and wealthy neighbors" (48) while "at our door people are starving" (49). No!
"Missionary outreach is "paradigmatic for all the Church's activity" and Catholics should be "permanently in a state of mission"… "so that the Church's customs, ways of doing things, times and schedules, language and structures can be suitably channeled for the evangelization of today's world rather than for her self preservation" (27). Get the point? Catholics who do not embrace the message of Evangelii gaudium will not be able to understand Laudato si' (that is not to say that all who do understand the Apostolic Exhortation cannot diverge and find intelligent objections and concerns to Laudato si'... a few have done so. But a missionary mindset is a prerequisite for Catholics to understand the environmental encyclical).
Francis said his dream was to "give shape to a definite style of evangelization which I ask you to adopt in every activity which you undertake" (18). Every activity includes every activity, and the Pope is doing that when he proclaims Laudato si'. When Pope Francis says he "would like to enter into dialogue with all people about our common home" (3) he is saying to Catholics: "I spoke to you in the last document, Laudato si' is about evangelizing those who don't know the Gospel, pay attention to how I do it and try to learn something about dialogue and respect to people who don't share the faith."
c. Conclusion: What hermeneutic does Laudato si' call for? An evangelizing hermeneutic.
Genesis and Structure
This evangelizing intention of the Holy Father explains the unusual structure of Laudato Si. In the first post I already outlined the Trinitarian theology that holds the encyclical together. This Trinitarian thread is however embedded, serving as a template onto which other attractive and beautiful threads come to the forefront. This thesis is confirmed by the testimony of some of the authors of Laudato si'.
This is what the Pope himself said it on the plane flying to Manila in  January 2015: "Cardinal Turkson and his team prepared the first draft. Then, with some help, I took it and worked on it, then with a few theologians I made a third draft and sent a copy to the Congregation for the Doctrine of the Faith, to the second section of the Secretariat of State, and to the Theologian of the Papal Household… Three weeks ago, I got their responses back, some of them this thick, but all of them constructive. Now I will take a week of March, an entire week, to complete it. I believe that by the end of March it will be finished and sent out for translation. I think that if the work of translation goes well … then it can come out in June or July. (15.01.2015)[2].
The Pope was very transparent about the encylical's writing process. I do not want to enter into the extended details of each part of the process, but to engage only in the first step of what "Cardinal Turkson and his team" did. The Pontifical Council for Justice and Peace is constituted by Cardinal Turkson as the head, who is a renown biblicist, the secretary Mario Toso and a small staff of thinkers with expertise in a range of specific topics. Recently, Bishop Mario Toso offered detailed insight onto what the first draft looked like. Anyone who knows anything about Bishop Toso  knows that he is a brilliant intellectual who masters the Church's social doctrine like few people. As his bio testifies, he is the mind behind the logic of the phenomenal Compendium of the social doctrine of the Church and parts of Caritas in veritate. This is what Bishop Toso said recently about Laudato si':
"The encyclical, as it is presented to us today, shows a face different from that of the first draft, which was to include a long introduction of a theological, liturgical, sacramental, and spiritual character. If the initial configuration had remained, the encyclical would have been addressed more immediately to the Catholic world. Pope Francis, instead, preferred to change this configuration, moving the theological part to the middle and end, as he also did with the parts concerning spirituality and education. In this way he restructured the material made available to him, arranging it according to a method of analysis and discernment that implies a consideration of the situation, an evaluation and a prefiguration of practical guidelines for working on a solution of the problems. He thus wanted to involve the largest possible number of readers, including non believers, in a thought process that to a large extent can be shared in by all."
This statement by Bishop Toso illustrates two important aspects. The first is that it confirms the evangelizing intention of the Pope, and reaffirms the need to read Laudato si' in a "missionary key". What Francis does is to structure the document in a form accessible to non-believers. Second of all, it confirms the thesis that the theology that guides the encyclical, which I call a Trinitarian theology, was not made explicit but implicit for the evangelizing reasons mentioned already. What this says is that at one point the document was a very logical application of social doctrine to environmental issues, but the Pope mixed it up on purpose. What I would say for Catholics that are struggling to understand Laudato si', they should almost read it backwards, from chapter 6 to chapter 1. The 'reverse logic' in fact follows the logic of the kerygma, which we find illustrated in another comment by Bishop Toso in reference to Pacem in terris.
Pacem in terris
The most important insight to Laudato si' from Bishop Toso was the one liner… "Pope Francis was inspired by the methodology… of the encyclical ' Pacem in Terris…". Let's get a brief refresher of the significance of Saint Pope John XXIII's encyclical:
"I am much encouraged by a reading in this last week of the remarkable encyclical, Pacem in Terris," President John F. Kennedy said at a convocation at Boston College. "Pacem in Terris was more than an encyclical—it was an event, a 'happening'… it was printed in full in the New York Times", recalls Mary Ann Glendon. Pope Benedict XVI described Pacem in Terris as an "immortal encyclical" and George Weigel notes that "from a historical point of view, Pacem in Terris inserted the Catholic Church firmly into the late-20th century debate on human rights…"
The 'good Pope's' encyclical, much like Laudato si', begins with a language that does not presume Christianity from its readers, introduces 'God' progressively and only mentions Jesus Christ a few times, towards the end. As Pacem in Terris, Pope Francis wants to appeal to reason and say that "The principles We have set out in this document take their rise from the very nature of things" (157). Like John XXIII in his encyclical, Pope Francis seems to be following the steps of the kerygma, especially the first two steps (God loves you and sin will destroy you), with the other aspects sprinkled throughout the document. The reason for following the kerygma (see here) is to avoid "Our tendency today… to unload the entire bale of hay, to instruct converts in the whole counsel of Christ, before they are even initiated, and ask that they ascent to all of it" which leads "people to get lost in the weeds, and to miss the essential point." If the kerygma which is designed for new converts requires a progressive and synthetic approach, how much more care must be put into engaging non-believers. In Laudato si', Pope Francis sticks to essentials and states the message in a language and style, methodology and structure, that is accessible to his audience.
Pope Francis had a wide experience of speaking with non-believers in Argentina; Laudato si' is the fruit of his experience. One reason many Catholics misunderstand Pope Francis is because they don't really know how to evangelize, I suspect, because they have not tried it out… beyond their "rich neighbors". The kerygmatic point would also explain one of the more serious and well founded criticisms of Laudato si', such as Fr. Schall's comments that the document is too heavy handed on creation rather than redemption and that it emphasizes "not so much salvation but making a world fit for the poor". Well, the kerygmatic rationale explains that for an audience to embrace salvation they must first accept creation and sin. Only the lost can be found. The poor are a common ground to begin a conversation… salvation is not that common ground.
For all those who have reacted poorly to the encyclical, I would like to end with a quote in Pacem in Terris, which refered to the patience Pope Francis often talks about in the morning homilies and reflects the continuity of the magisterium between so many Popes:
We would remind such people that it is the law of nature that all things must be of gradual growth. If there is to be any improvement in human institutions, the work must be done slowly and deliberately from within. Pope Pius XII expressed it in these terms: "Salvation and justice consist not in the uprooting of an outdated system, but in a well designed policy of development. Hotheadedness was never constructive; it has always destroyed everything. It has inflamed passions, but never assuaged them. It sows no seeds but those of hatred and destruction. Far from bringing about the reconciliation of contending parties, it reduces men and political parties to the necessity of laboriously redoing the work of the past, building on the ruins that disharmony has left in its wake."68
Footnotes
[1] Austin Ivereigh summarizes the key battle fought by Bergoglio on the issue of hermeneutics:
"Early in the drafting, many delegates wanted the document to begin with an analysis of contemporary realities using the traditional see-judge-act method. Bergoglio had no problem with the method but wanted it preceded by an introductory chapter on how to see, namely, as missionary disciples moved primarily by "the love received from the Father, through Jesus Christ, by the anointing of the Holy Spirit" (no. 14).When, as Pope Francis, he returned to Brazil in July 2013, he spoke to the CELAM leaders of "a temptation that has been present in the Church from the beginning: the attempt to interpret the Gospel apart from the Gospel itself and apart from the Church." He gave the example of the Aparecida meeting, "which, at one particular moment, felt this temptation … to opt for a way of 'seeing' that was completely 'antiseptic,' detached, and disengaged, which is impossible. The way we 'see' is always affected by the way we direct our gaze.… The question was, 'How are we going to look at reality in order to see it?' Aparecida replied: 'With the eyes of discipleship.'"
That had been his argument with the progressive Jesuits in the 1970s. In claiming to be using scientific analysis to view society's problems, they were discarding the eyes of faith. That left them open to ideology, which turned faith into an instrument— the error of Marxist liberation theology."
If we look at Bergoglio's speech carefully, he was saying these words as a warning to avert making "the Gospel message an ideology", and turn 'faith into an instrument' of our own will. I wonder if the negative reception by many in America is precisely because Pope Francis resists ideological interpretations, liberal and conservative, through his missionary approach. Here we should remember David Schindler's point where in liberalism, under the guise of hermeneutic 'neutrality', the neoconservative position in America is described as the other side of the coin of liberation theology – in which both use Catholicism to achieve their own ends by "keeping God out of worldly affairs".
[2] http://www.news.va/en/news/cardinal-turkson-laudato-Si-inspired-by-st-francis