Bishop Larry Silva of Honolulu has written a wonderful Pastoral Letter to Surfers for the Year of Faith. I have seen some  attempts of connecting surfing to the spiritual lessons of the Christian life, such as  Peter Kreeft here. But this short and simple letter is my favorite so far. Quoting Benedict, Augustine and Aquinas, Bishop Silva manages to capture some essential elements of what surfing means and shed a Christian light on it.
The most interesting insight to me, having been a surfer who once sought God on the waves and travelled the world looking for the 'perfect wave', is the following:
There is a tendency in surf culture to see surfing as a religion: to settle for creation rather than Creator.  Yet the ocean is an "icon of God". The beauty, awe, and joy you experience should lead on to the Author of the universe: our loving God (Rom 1:19-20). The search for the "sweet spot" on perfect wave is really a search for ultimate happiness, which leads us to God, because nothing else totally satisfies that desire. As St. Augustine put it: "You have made us for yourself, O Lord, and our hearts are restless until they rest in you."… 

Just as you search for waves, do not be afraid to search for truth. Do not let the many competing voices cause you to give up on the possibility of discovery.  Jesus said "I am the Way, the Truth and the Life." [John 14:6] As Pope Benedict XVI encourages:  "[T]he happiness you are seeking, the happiness you have a right to enjoy has a name and a face: it is Jesus of Nazareth." (World Youth Day, Madrid, 2011)"
After surfing from Sumatra and Bali to Australia, New Zealand, Fiji and Tahiti, this is precisely what I discovered, that I was looking for too much in surfing. Not that surfing was bad, but I had placed divine expectations on it, and surfing is not God. I could only rest in God himself (here is a picture of me camping by an Australian park in a surf spot in Australia when I was 18). R. R. Reno, has an interesting quote about this, with regards to his experience with Rock Climbing. Reno is now editor of First Things, known as a 'conservative' Christian magazine. He is the editor and also a  serious theologian. But apparently was once a serious climbing bum, and this is what he found:
""[Climbing] is not as important as it seems. Don't overestimate it and if you don't, you'll probably

enjoy it longer because you won't make it play a role in your life that it can't really play. It can't be like religion. It's a temptation to confuse the intense experience of climbing with something that's more life fulfilling. I think the people who did that ended up unhappy." This is undoubtedly the salient nugget of wisdom in this article. It was Rusty's interpretation of what Dale Bard told him as a young climber. Climbing is one of those unusually addicting activities, which makes its participant susceptible to placing a higher worth on it than is appropriate. The climbers who have not fallen in this trap, it turns out, tend to enjoy their sport more in the long run."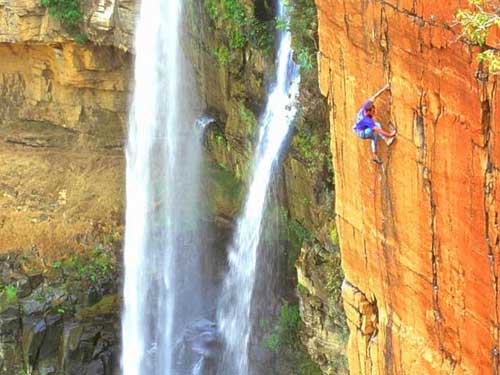 I think this captures the spirit of the Pastoral Letter to Surfers, but in the negative. The positive side is how our anthropological longing for infinity many times is expressed in activities like surfing and rock climbing. Understanding the difference between the expression of, and the reality itself, can make a huge difference. It is in the encounter with the infinite, with the face of God – Jesus,  that the longing can be fulfilled. Pope Benedict XVI spoke this existential language on his 2nd catechesis on prayer. Below an excerpt, and below that an incredible video on surfing and the waves of Teahopoo:
Man bears within him a thirst for the infinite, a longing for eternity, a quest for beauty, a desire for love, a need for light and for truth which impel him towards the Absolute; man bears within him the desire for God. And man knows, in a certain way, that he can turn to God, he knows he can pray to him…

Man is religious by nature, he is homo religiosus just as he is homo sapiens and homo faber: "The desire for God" the Catechism says further, "is written in the human heart, because man is created by God and for God" (n. 27). The image of the Creator is impressed on his being and he feels the need to find light to give a response to the questions that concern the deep sense of reality; a response that he cannot find in himself, in progress, in empirical science.